Businesses can only maintain their image in the market if they meet the latest marketing trends. Setting your devices into a special mode that limits end-user access to a single or few applications to develop your intelligent devices, purpose-built is called mode. Currently, kiosks have become a basic necessity in every industry.
What is kiosk mode?
Kiosk modes are best for organizations to streamline their work by limiting the access of devices for staff and customers. Setting kiosk mode on employees' devices improves work efficiency and security, while setting self-service kiosks for customers helps entertain customers instantly, even without human interaction.
Five advantages/benefits for small businesses
Here are some benefits of kiosks for every small business:
Kiosks are cost-effective solutions for small businesses to ensure 24-hour availability and reduce labor costs.
Managing businesses with kiosks needs less space; hence requires less rent, utilities, and staff costs.
Portable kiosks are easy to move and grab more customers in seasonal locations.
Kiosks act as low-risk platforms as installing a kiosk require less cost than creating a fully equipped store.
Kiosks allow businesses to stand out from competitors using the unique interface with the brand's name, logo, and theme.
Top 8 Android Kiosk Software in MDM
1. AirDroid Business MDM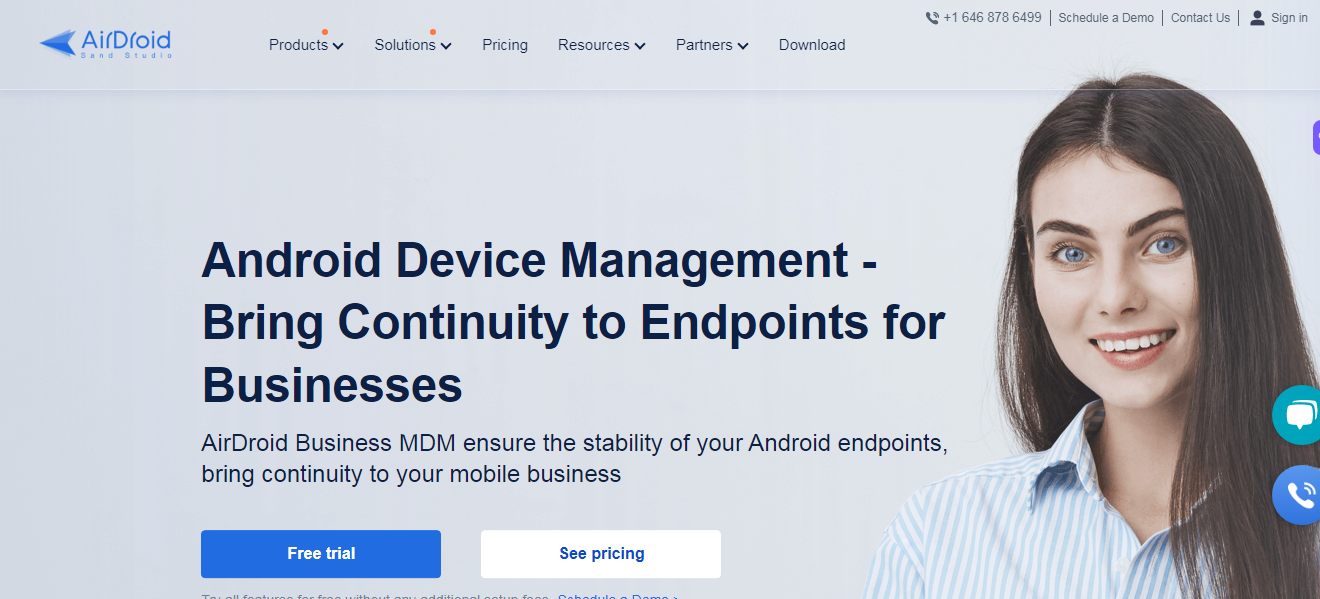 AirDroid Business MDM is a robust and efficient solution to support enterprises to meet all business ends. It is an all-in-one solution to help enterprises improve the productivity and outputs of each department using Android devices.
Features
Remote Monitoring and Controlling
Admins can use the Dashboard to monitor the device screen and perform instant actions on the devices, even unattended.
AirDroid Business provides systematic data storage and encryption to avoid unauthorized access. Admin can also block access of some devices to specific files.
Remote lockdown of the device
Admins can lock down the devices remotely when theft or loss. They can also factory set or track the location of the devices if stolen.
Single and multi-app kiosks
Single-app kiosk only allows one app to run on the devices, while with multi-app kiosk, users can access more than one app.
Pros
It offers flexible pricing for all business levels.
It has a user-friendly interface with fully customized settings and privacy policies.
Cons
It only supports Android devices.
Features in the basic package are limited.
Pricing
AirDroid Business offers $12, $21 and $33 for basic, standard and premium package respectively.
2. Mobile Device Manager Plus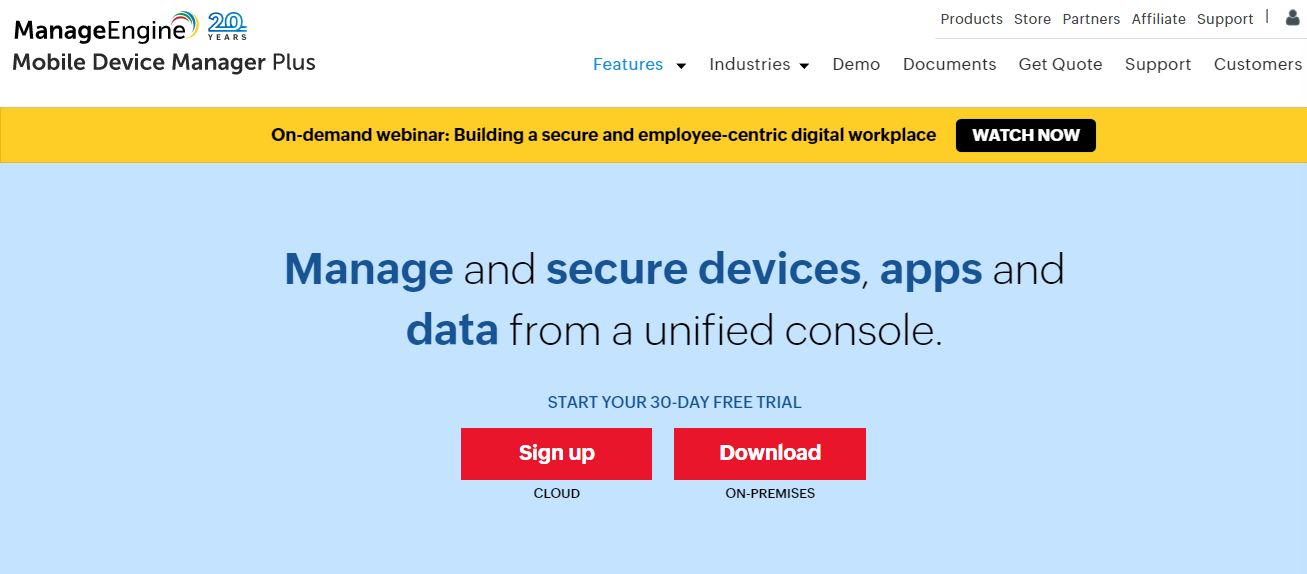 Mobile Device Manager Plus is a comprehensive MDM solution that offers both on-premises and cloud-based software. ManageEngine developers developed it to use cloud-based software access or install it on Android devices to upgrade your businesses.
Features
It enables admins to remotely troubleshoot issues on the end-user devices without being on-site.
Admins can track the real-time location of devices and access misplaced device locations.
It keeps the data on devices fully protected and separates personal and official data.
Pros
It keeps the devices automatically updated with the latest security measures and operating system updates.
Blacklist malicious apps to attack the company's devices.
Cons
Pricing is comparatively higher for small businesses.
It has a complex configuration process.
Pricing
It charges $495/ 50 devices in standard edition while $895/ 50 devices.
3. Scalefusion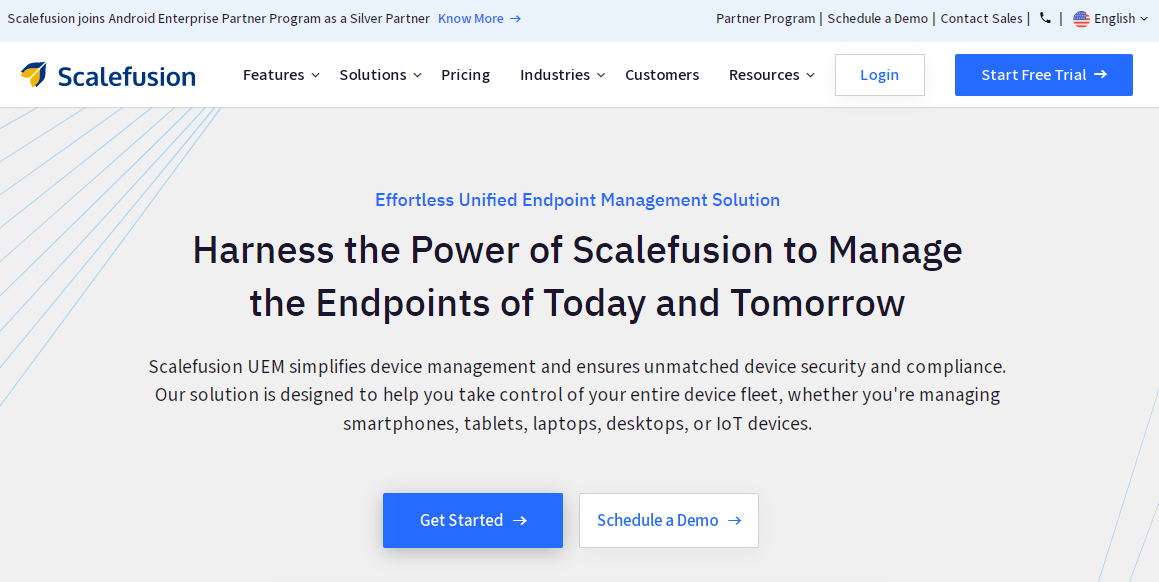 Scalefusion is widely used Android software by most online brands. It is an intuitive and effortless MDM solution for endpoint management in enterprises.
Scalefusion ensures the management of everything done on Android devices and is now Android's Silver partner.
Features
Scalefusion provides an additional feature of Voice over Internet Protocol to make calls.
Admins can set the interface of devices according to the brand's look. They can change the font size, style, logo, name and color scheme to improve brand attraction.
Enterprises can remotely cast the screen of enrolled devices and control them to perform actions and troubleshoot issues.
Pros
It has the best customer support team available 24 hours for assistance.
Admins can manage all the devices from a single dashboard.
Cons
Limited support for non-Android platforms.
Some features require technical knowledge for implementation.
Pricing
It charges $2, $3.5, $5, and $6 per device per month on its different packages.
4. KioWare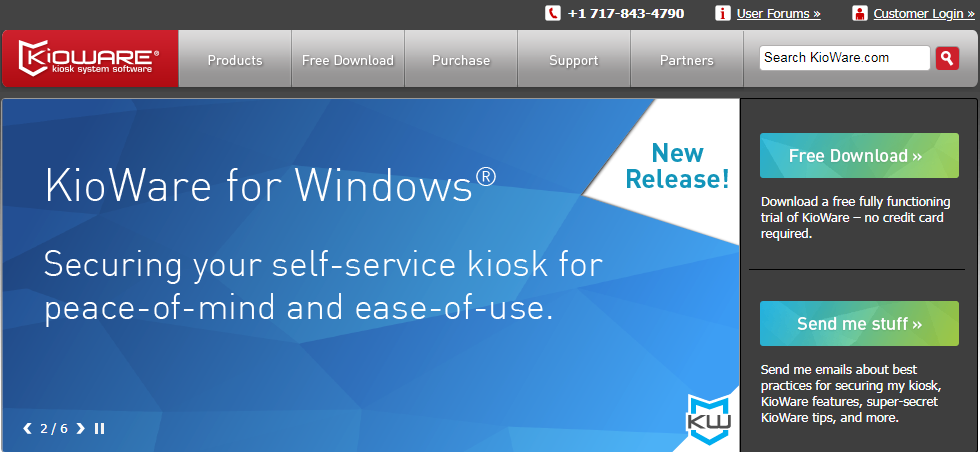 Kioware is Android kiosk software that helps to lock down enterprise-owned Android devices for limited use. It offers flexible pricing based on the functionalities. If you want to enjoy complete options to manage kiosk mode, try using its premium services.
Features
It locks down the device usage to specific apps and limits the user's access to device settings and other confidential applications.
KioWare restricts the use of browsers on end-user devices and allows them to access limited websites they need.
It checks all security measures to provide uninterrupted support to small businesses.
Pros
It provides extensive analysis and reports to analyze the device usage better.
It has the best compatibility with Android's old and latest versions.
Cons
It primarily focuses on kiosk applications and does not provide additional features to support businesses.
It provides limited support for device management.
Pricing
It starts with a basic package of $45.
5. Esper
Esper is one of the best kiosk software to manage devices for uninterrupted working when they are working to generate revenue for your company. It is highly scalable and intelligent software to adapt to new situations and does not slow down even if your business grows.
Features
Automated Device Enrollment
Esper provides an easy device enrollment process. Devices are managed with pre-set configurations to utilize when enrolled in business directly.
Admins can control all the devices remotely to access the camera, change settings and support the team.
Esper saves time for small businesses to update the devices at any time except during working hours. It provides auto-update principles to improve productivity.
Pros
It can withstand different hardware devices, allowing you to choose hardware without limitations.
It is best for all Android devices, including rugged devices, digital signage, smartphones, tablets, kiosks and POS.
Cons
It provides limited support for iOS devices.
A few procedures are a bit hard to sort out and manage.
Pricing
It has a package of $2, $4 and $6 per device per month and named as Genesis, Bridge and Architect package.
6. Miradore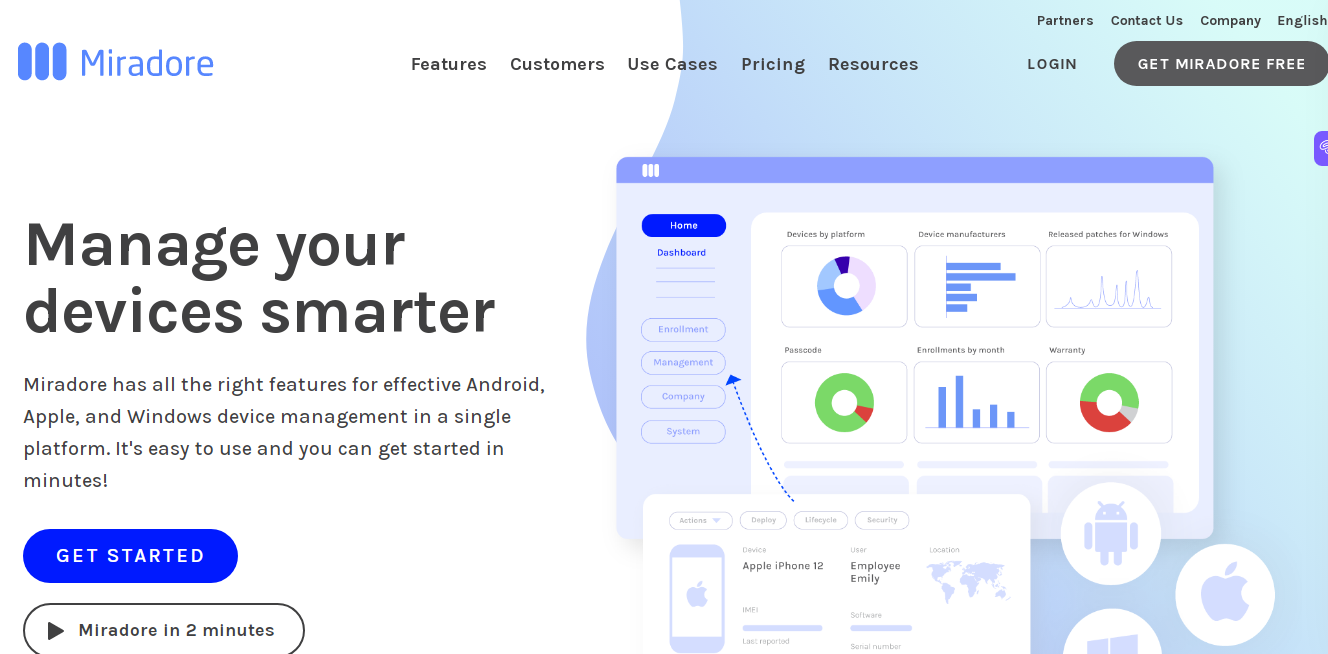 Miradore is straightforward, user-friendly software that helps small businesses monitor and manage all operations from a single console.
Features
Enterprises can lock the devices remotely when left unlocked to prevent unauthorized access. Admins can clear and reset passcodes and enable lost mode to make it useless for others and save data.
With Miradore, small businesses can manage the control of all the enrolled devices from a central location. Admins can monitor device health activities, application lists and usage remotely.
Pros
It supports Android, iOS and Windows OS.
Devices can be business-specific using single-app kiosk mode.
Cons
The free version needs more improvement for managing a fleet of devices in a business.
The program is very glitch, and customer support could be more responsive.
Pricing
Miradore offers its premium services at $2.75 per device per month.
7. SureLock
It is dedicated software to lock down all Android devices into kiosk mode, including IoT devices, rugged devices, Smart TVs and tablets. It helps to reduce the probability of cyber-attacks and data loss. It is already protecting a large number of businesses worldwide.
Features
It prevents the misuse of devices by unauthorized users by providing strong password policies.
SureLock provides remote access to admins to control the devices and analyze the device usage and keep the work productive.
Businesses can customize the layout of the brand on the kiosk interface for marketing their products.
Pros 
The support and sales team is very responsive and well-trained.
It has a quick installation process and is free from programming.
Cons
It supports only a few languages.
It needs more functionality to support businesses.
Pricing
It has a monthly subscription offer for $2.99 per device.
8. Hexnode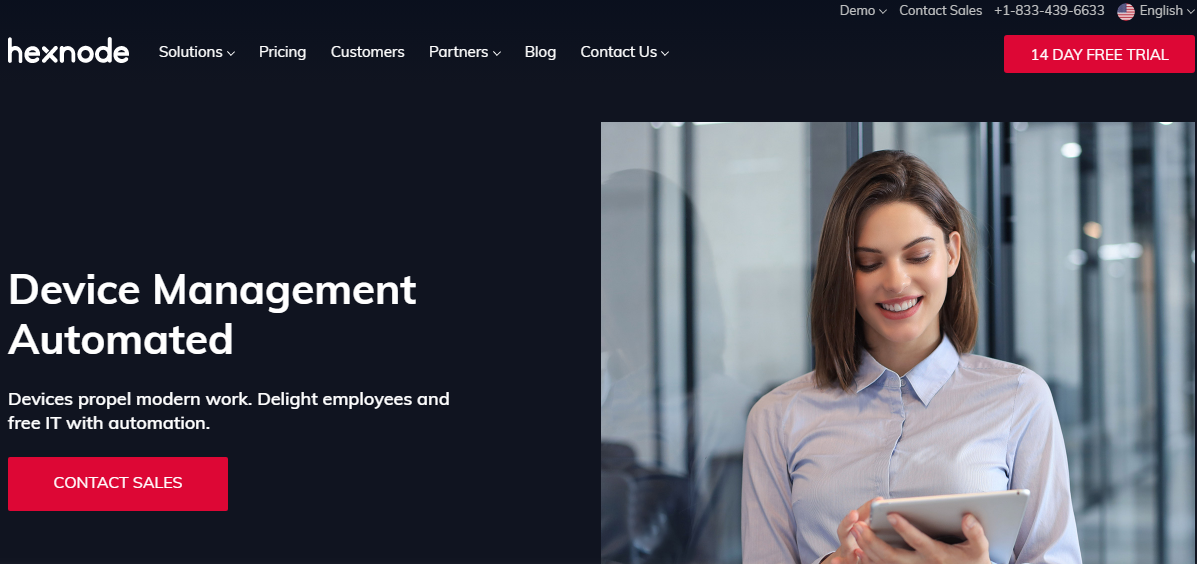 Hexnode is excellent kiosk software that provides a 14-day free trial to its valuable users. An authorized developer company launched it, and it has wide acceptance worldwide due to its high level of support to businesses.
Features
Hexnode provides zero-touch enrollment and management services with pre-defined policies.
It provides an Android kiosk browser for smooth and safe browsing, blocking all unnecessary websites.
Admins can remotely lock the unattended devices, factory reset, lockdown and wipe the data and track the device location in case of theft or loss.
Pros
It supports Android, iOS, Windows OS and Apple TV.
It provides 24-hour technical support to the clients.
Cons
It does not send notifications about newly added features.
All the necessary features need to pay a cost to get a subscription.
Pricing
It has express, pro, enterprise, ultimate, and ultra-package with $1.08, $1.8, $2.7, $3.6, and $5.4 per device per month pricing respectively.
The last word 
After deep analysis and considering features, pricing, pros and cons of each kiosk software, we can find out that AirDroid Business MDM is the best option of all these software. The way AirDroid Business supports all Android devices connected with an enterprise is extraordinary. It has paved a smooth path for enterprises to handle device usage and make them productive. Its remote monitoring and controlling feature enables admins to monitor the device's activities and access unattended devices to share files when needed in an emergency. It also provides exceptional security measures to secure devices and confidential data. Click here for a 14-day free trial.