How to Block Youtube Channels From Search Results?
Following Google, YouTube is the most popular website and search engine. It's simple to see why, with over 500 hours of video posted every minute and over 1 billion hours of video content watched.
When you're looking for videos on a specific topic, the sheer volume of content can be overwhelming. YouTube may assist you with this by presenting recommendations to help you find channels or videos that you might otherwise overlook.
However, if a channel you're not interested in continues popping up, it might be aggravating.
The issue for content creators who upload videos to YouTube on a daily basis is preventing trolls from interfering with their channel.
You may eliminate such problems by permanently disabling YouTube channels, whether you're on YouTube to watch other people's videos or to upload your own.
Blocking a YouTube Channel
You may have unintentionally or knowingly subscribed to a channel, and you no longer want to see any video content from it. In such circumstances, you can unsubscribe from the YouTube channel and block it.
1. Go to the home page of a YouTube channel and choose or tap Subscribed to unsubscribe.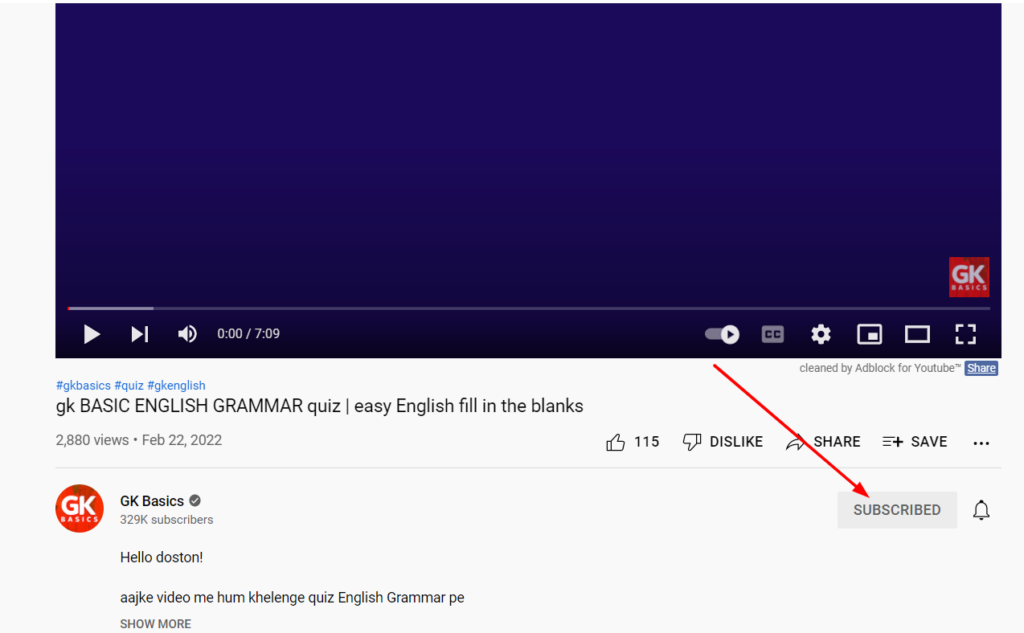 2. To confirm your decision, select or hit Unsubscribe.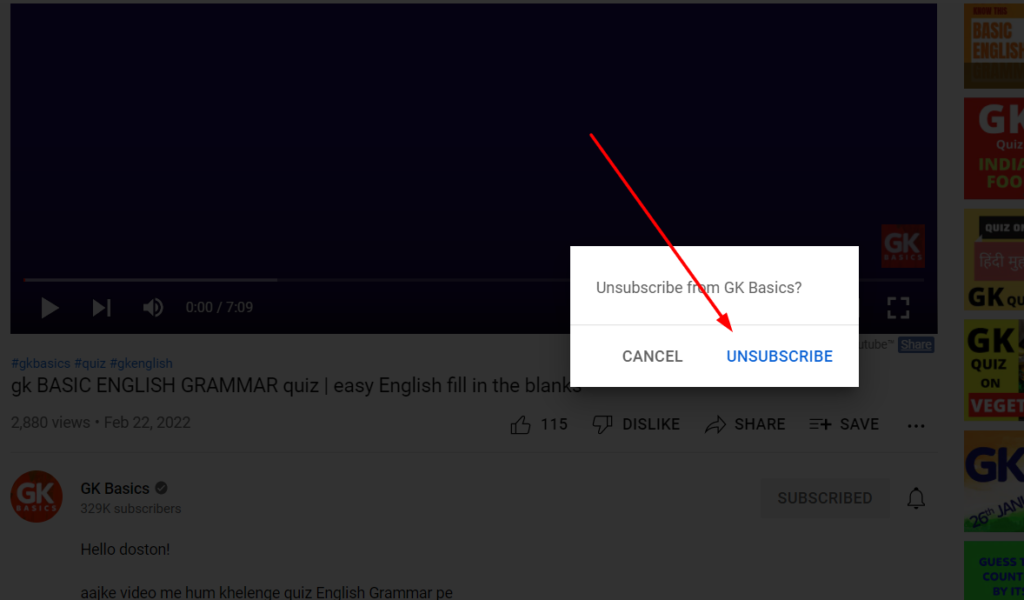 Note: If you unsubscribe from a YouTube channel, your subscription will be terminated, and you will no longer receive notifications from the channel in your feed. You may still receive video recommendations from the channel on occasion, but you can opt out by following the procedures in the next section.
Use these procedures to permanently restrict videos from a certain channel that YouTube still suggests to you.
Note that whether you're using a computer or a mobile device, the methods below are the same.
1. Go to YouTube and tap on the ellipsis next to the video title to do so.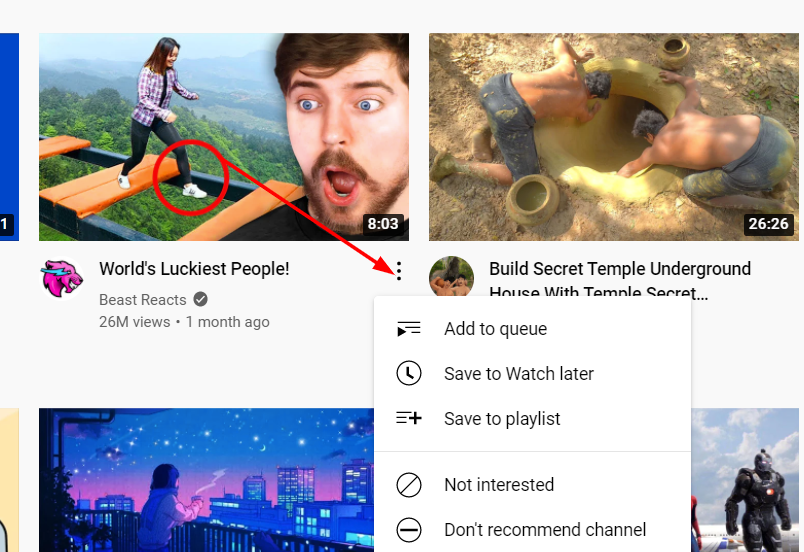 2. After that, choose Not interested,  Don't recommend channel 
If you choose Not interested, YouTube will stop recommending the video and similar videos to you, regardless of which channel they come from.
If you choose the Don't recommend channel option, YouTube will not offer you videos from that channel on any topic. When you wish to exclude videos from a certain account related to your area of interest, this option is appropriate.
When you come across a video that is potentially harmful, offensive, or misleading, you can use the Report option to alert YouTube. If you select this option, YouTube will no longer play the video and will notify you that they need to investigate and perhaps remove it from the site.
You can ban a YouTube channel or use Restricted Mode if you're a parent and wish to safeguard your children from receiving or viewing unsuitable information.
Restricted Mode allows you to block potentially mature and/or inappropriate content that you don't want others to see on your device. Restricted Mode can be enabled by selecting or tapping your profile picture, then selecting Restricted Mode and turning it on.
YouTube Kids, ABCMouse, and SproutOnline are some more YouTube options for kids, all of which offer selected kid-friendly, free-to-watch videos. YouTube Kids, in particular, screens all content and only permits safe content, as well as preventing cyberbullying and commenting on the platform.
How to Block a YouTube Channel for Kids?
YouTube Kids is a dedicated video service with content that has been handpicked and produced just for children. The platform features family-friendly, educational, and entertaining films with large, colorful pictures and iconography from various channels that cater to children's interests.
Furthermore, YouTube Kids filters all content and provides parental control capabilities, allowing you to keep an eye on what your child is seeing while also preventing cyberbullying and commenting.
If you're not sure about a channel's content or whether it's appropriate for your child, you can block YouTube channels or videos, and your child will no longer view them when you sign in to YouTube Kids.
How to Block a YouTube Channel for Kids?
On YouTube Kids, you can block a channel via the channel's watch page.
To do so, go to the video's watch page and touch More (three dots) in the top right corner.
After that, tap Block.
To block the channel connected with the video, select Block entire channel in the dialogue box that displays, then press Block.
Complete the total on your screen or enter your personalized passcode.
Note: To unblock the YouTube channel you just blocked, sign back into the app, navigate to Settings (gear icon), and select Unblock videos > Yes, unblock. Unblock the videos in the Family Link settings if you're using the app with Family Link.
If you don't want to restrict an entire YouTube Kids channel, you may instead block a specific video from the channel.
To do so, log in to the app, touch More next to the video you wish to block, and then pick Block this video from the menu.
Complete the total on your screen or enter your personalized passcode.
You'll see a green bar at the bottom of your screen confirm that the channel has been banned, as well as the option to undo if you wish to unlock it right away.
How to Remove a YouTube Channel from the Search Engine Results?
There isn't a clear way to remove a YouTube channel from search results on YouTube. Instead, you can automate this using a Chrome extension like Channel Blocker.
By employing regular expressions and/or blacklisting persons, the addon allows you to ban YouTube comments and videos. It will not collect your user data and can be used to block users, individual videos, or entire channels from search results.
Make Use of the YouTube Block Button
We hope you were able to use this instructions to restrict a YouTube channel or video on your device or browser. Enjoy your YouTube experience without the obnoxious video recommendations that appear from time to time while you're surfing the site.
What methods do you employ to prevent YouTube channels from being viewed? Leave a comment with your ideas.