How to Keep Your IT Skills Sharp From Home. In the ever-changing technological world, keeping your skills up to date can save you from technical hiccups while working. Every industry professional needs to update their skills regularly. This is especially prevalent in the field of IT, since employers often need employees based on very specific skills and certifications, as can be seen on this State of IT Certification Jobs Map. However, in the dynamic and innovative world of technologies, you may need to do daily work to keep up.
As innovations crop up and the old practices become mundane, revamping your skill sets becomes paramount. Since IT is a broad subject with varying opportunities, select an area that draws your interest. Keep abreast of trends that come-up whenever you have free time.
You must learn how to keep your IT skills sharp while at home. Home environments provide many distractions that can hinder productivity. Eliminating these distractions can be hard, and updating your skills becomes impossible. However, with the following suggestions, there is nothing you cannot achieve technology-wise while spending the day at home.
Structure Your Time
Reserve a specific period to spend updating your skills by delving into information technology. Look at new software coding, get the latest development tool, create and compare IT frameworks, and more. Learning about a new operating system not only keeps your IT skills sharp, but it also keeps you up to date on specific subjects and the latest versions.
Just like research, one has to move from place to place in search of the right documentations. Similarly, poking around the technological world can provide you with the necessary talent or skill in your free time. Those 15 minutes you set aside to read something new may save your IT skills from becoming redundant.
Stay Connected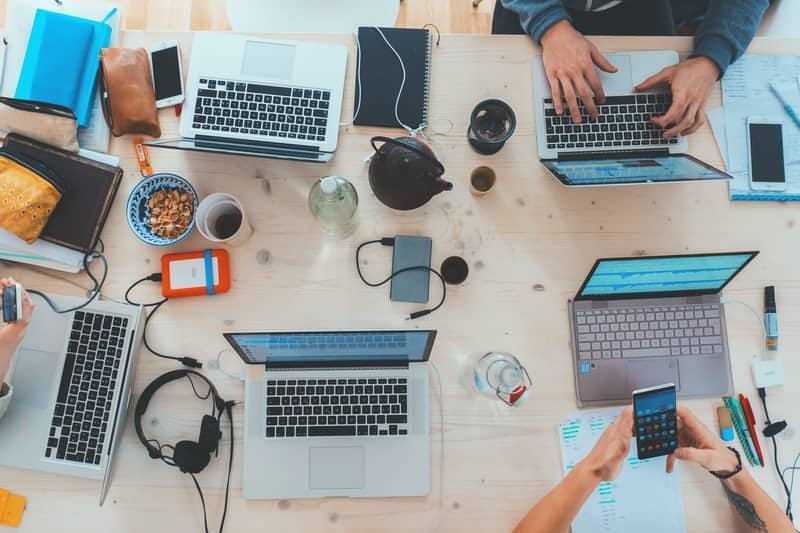 The internet provides some of the best platforms to get information. Platforms such as blogs, social media, technology sites, and industry influencers, provide you with current and emergent trends to pursue.
You get a feel of what people expect of you in your field and what the future holds. This can also help you stay up to date on the constant changes happening.
While working at home, nothing beats specializing and keeping tabs on what others are doing. From your collection of friends, you can create a small network to tap into for learning opportunities. Friends with IT specialization can have different ideas, topics, and expertise to share with you.
If a personal network does not work for you, you can always connect using any social media platform. Vlogs, Skype, Podcasts, and many more programs can deliver diverse learning opportunities. LinkedIn is one of the best platforms where professionals are easy to find, link with, and follow.
Take an Online Course
IT is the most sought after academic subject. Many corporate organizations provide free training programs online to help you boost your IT skills. You can often register for a small course on nearly any subject you desire.
Many lessons from online schools often focus on current and emerging technology trends around the world. Since you learn in a virtual environment, you get to do everything on your own. The flexible coursework is quite effective as you adjust to how you learn as an individual.
Groups in an online learning course further advance an individual's skills. Students come from different regions, have different ideas, and can run different projects. In a group learning session, every student can contribute to the session diversifying the learning process.
Take On a Personal or Volunteer Project
Some things are easier to learn through a project. Visit sites that allow you to pick up a challenge that matches your coding skills. This can require a lot of practice to meet the coding level required to gain entry. You can also get training in different programming languages.
Push yourself and try to demystify any challenging work you have come across in your free time. Work on possible tutorials for kids in your neighborhood. Benefit from free online repositories for more information on any desirable topics.
If you love to program, you can code while still at home. Trying to produce new items using your computer coding skills improves your technical skills exponentially.
Diversify Your Knowledge
Do not grow your knowledge around a single topic. Being well-rounded can give you the skills to better problem solve. This is especially true when keeping your IT skills up to par with current technology. Diversify by learning different programming languages and various types of application development.
IT experts work across many diverse projects and platforms. Therefore, no matter how complex a specific section of your project seem, push through until you complete it. Also, keep up with new announcements and new app program or device launches and understand the basics of dealing with IT experts.
Join new organizations or subscribe to organizations that offer free training. These offer educational opportunities for anyone who would love to learn new skills. You get mentors and other professionals assisting in the learning process. From these activities, individuals get more from every aspect, allowing them to enhance their abilities. Keep Your IT Skills Sharp.
Read, Read and Read
Reading can be taxing and boring, but it can also be an efficient way to improve your skillset while at home. People are always writing about new trends. Reading about new ideas on different subject matters, and perusing through these information sources, can sharpen your skills.
Searching a library on a specific subject such as blog formation, linking and backlinks, and more can improve your content for your potential blog. Oftentimes, reading current news brings you up to date with current topics. You can also login to academic libraries for more in-depth research.
Continuing to Adapt
While in an industry, it is easier to adapt and work within the set limits. However, this does not make a difference, and your uniqueness and potential dwindles and dies over time. Finding new ways of delivering the same service is what keeps your skills from burning out.
Adapting with change and taking the time and effort to enforce change in your life may be what saves your IT career. So long as you remain up to date and introduce a new learning culture, you are sure to keep up with your job no matter where you are! However, developing new applications, or programs using your newly learned skills, helps you retain top-notch IT know-how.