In this post, we will be talking about an application, named Stellar Converter for EDB that is designed for mailbox conversion and migration. We will be discussing the features and specifications of this EDB to PST Converter application. We will be reviewing the application on various parameters, such as ease-of-use, installation, and functionality.
Stellar Converter for EDB – An Overview
Stellar Converter for EDB can open EDB files of any size and from any version of Exchange Server. In fact, you can open EDB files without having an Exchange Server installed. You can granularly export from these EDB to PST or other formats, like EML, PDF, MSG, and HTML. With this application, you can export directly to a live Exchange Server and Office 365 tenant.
Features
These are some main features of the application.
Fast conversion with parallel processing. It can process 4 mailboxes at the same time.
Prioritization of exports. If you have some critical mailboxes, you can mark them, and they will be prioritized before others.
The application not only exports user mailboxes, but it also exports user archives, shared mailboxes, disabled mailboxes, and even public folders. You don't have to go through the painful process of scripting and batch migrations for public folders.
It can be used to export data from decommissioned Exchange Servers or even for migrating from a legacy Exchange Server to the latest Exchange Server without having to hop to another version due to coexistence issues.
It features automatic or manual mailbox matching to ease migration to a live Exchange Server database or Office 365 tenant.
User Experience
The application is very fluid. It has everything well-placed and easy-to-use. As all the functionalities can be found on the same screen, you don't have to go through endless screens and popups to export a mailbox.
The installation is very easy. First, you need to head to the website and simply click on the download button.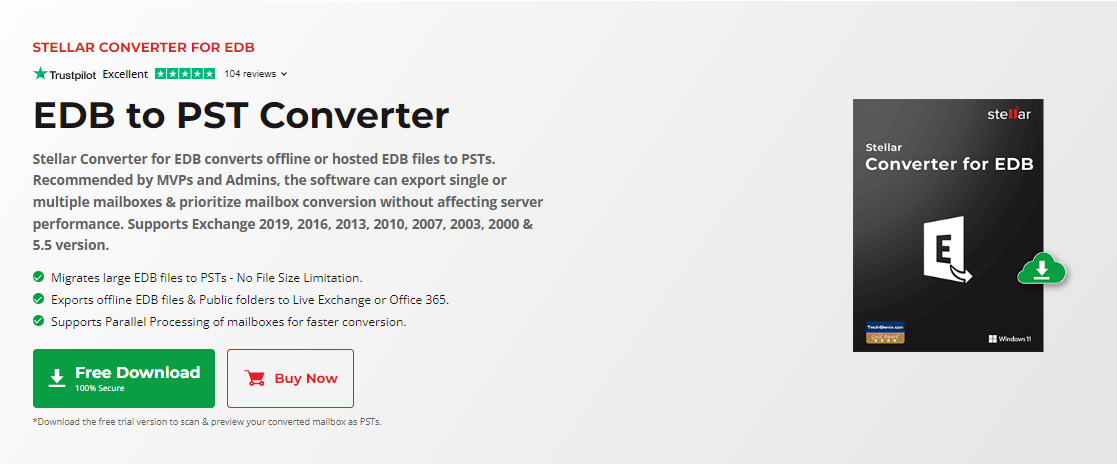 It will download a 30 MB file. After a few clicks, the installation is ready. Once you start the application, you will be immediately asked to specify the location of the database files. You can also search for the files.
When you select the EDB file, the application will start scanning it. Depending on the size of the database, it will take its time. You can also save the scan for later use. After scan, it will show all the contents of the file.
The left pane displays the structure, the middle pane lists the items with an in-line search feature, and the right pane shows a full HTML preview. The left pane has also buttons to change the view between mail, calendar, tasks, contacts, and journal.
Personally, the interface is one of the things that impressed me as in one screen I have all the functionalities.
Exporting to PST and directly to an Exchange Server tenant was quite good as compared to other applications. Also migrating from on-premises to Office 365 is very simple and easy. You must also consider the platform you are running the application from and the storage speed where the EDB files are stored. In all fairness, the result of running the export on SATA and SAS drive was quite good.
Editions and Pricing
The application comes in three flavors.
Corporate I
Corporate II
Toolkit
The "Corporate I" license comes at $299 with 1-year license and exports 50 mailboxes. The "Corporate II" license costs $399 and can export 500 mailboxes. If you want to go large, you can choose the "Toolkit" version. It comes with 1-year license and allows unlimited mailboxes to export. In addition, the "Toolkit" version comes bundled with Stellar Repair for Exchange, OST to PST Converter, Exchange Backup Extractor, and Password Recovery for Microsoft Exchange.
Conclusion
If you need to migrate to a newer Exchange Server or Office 365, Stellar Converter for EDB is the right choice. The application pricing is quite fair considering the functionalities it provides and the peace of mind that your data is safe. If you have a small to medium business and you need to migrate to a newer Exchange Server or Office 365, then the "Corporate" license is the right license for you.