Web Hosting for Nonprofits 2020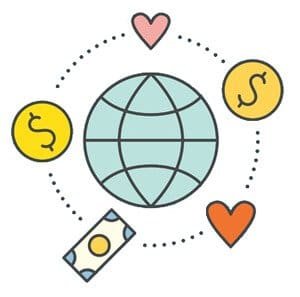 If you run a non-profit website and need to host your website, you're probably wondering about things like "Can I get free web hosting somewhere?"Or" How much web hosting will cost if I pay for it? Is this worth it?"This page has been created to help answer such questions and more! As a 10 + year veteran in the internet and web design space, I have worked with almost all the major hosting companies and generally have a unique, expert view of web hosting.
Without further ado, let's jump right into the topic of non-profit web hosting and look at a variety of important issues, businesses, and more!
Paid vs Free Web Hosting for Nonprofits
This is probably the number one issue in the minds of most people when it comes to web hosting for non-profit. Most people who are in possession of a non-profit or at least in charge of maintaining the website for a non-profit ask if there is a chance they can get one way or another free hosting.
The answer to this question is— yes, some providers can give you the answer, but this usually comes with a catch. For examples, DreamHost is the only hosting provider I would even suggest considering that provides genuinely free non-profit hosting.
Nonetheless, this is combined with some problems:
They only sell their lowest tier bundle free of charge, which is not their WordPress hosting service.
You can still host WordPress on it, but it is not built for WordPress as it has a terrible management panel for their real WordPress hosting DreamHost.
Like many other popular hosts, they don't use cPanel and it's extremely complicated to use.
When it comes to customer service and assistance, I find DreamHost to be incredibly lacking, and, sadly, it's my strong opinion that in the field of web hosting, you seem to really "get what you're paying for" and just don't ever make it worth looking for free hosting.
Why is it? Well, mainly because web hosting has become so commoditized over time that the reason why free hosting is hard to find is because hosting costs are generally quite low. It's not challenging to get a $3.95/month or so inexpensive Bluehost contract. Even a top-tier host like WP Engine is just $29/month, which is almost the cheapest you can get for a WordPress platform. Many non-profits can pay $5/month for web hosting, even those that are incredibly small. And trust me, the little cost is worth the service and value you get when you pay for something. Yeah, it's my strong recommendation that hosting is inexpensive enough that looking for free hosting isn't really worth the time; just choose a high-rated host inside your budget and move on to coping with more important things!
Recommended Providers (Web Hosting for Nonprofits)
The following (although not free) hosting providers are some of my absolute favorites when it comes to reliability, pricing, and support. I'm using all these companies at the moment and I don't recommend junk. To be completely honest, most of the hosting companies are not that big. I can really suggest only a handful of companies, and the hosting companies below are some of the strongest.
Budget option: Bluehost
Bluehost is an outstanding networking provider whose cost-effective and secure shared hosting services are known primarily. I used them for places of all shapes and sizes from small sites that get very little tourists to sites that get thousands of visitors a day and they were fantastic.  When you operate a non-profit business and money is a real concern, Bluehost may be the best choice.

Mid-level option: SiteGround
Bluehost is an outstanding networking provider whose cost-effective and secure shared hosting services are known primarily. I used them for places of all shapes and sizes from small sites that get very little tourists to sites that get thousands of visitors a day and they were fantastic.  When you operate a non-profit business and money is a real concern, Bluehost may be the best choice.
Top-end option: WP Engine
Having managed hosting can make a big difference in terms of your site's reliability and performance if you're hosting a WordPress site. Because WordPress hosts that are managed are often built specifically for WordPress from the ground up, they are often quicker and safer. In my opinion, WP Engine is the most affordable managed WordPress host and, when looking for premium WordPress hosting, they are usually my first choice. They are an excellent choice if you need to host a non-profit website running on WordPress.
Nonprofit Web Hosting – Questions to Ask 
To help you understand a bit more about hosting a non-profit website and what kind of hosting might be the safest, below are some crucial questions to ask while looking at various hosting companies.
Can you run a website for WordPress?
If the answer is yes, consideration should be given to a hosting provider with experience working with WordPress. There are many shopping basin companies that offer low-cost web hosting, but they usually have poor service. It is difficult to get the word out of the non-profit and do good in the world because no one can reach your website, especially in this day and age. A little money spent on professional hosting goes a long way. Any of the above-recommended hosts can do a great job for WordPress, but if you want the best of the best WP Engine, this is the way to go.
Is there a number of traffic to your website?
If you've run a website elsewhere, it's important to look at how many visits you receive every day, week, and month. If your website attracts a significant number of visitors, it may be beneficial to choose one of the higher-level hosts such as SiteGround or WP Engine to ensure that your site is in less of a "static" atmosphere to accommodate the number of visitors you receive. The more robust the infrastructure of your hosting company and the better they manage their resources, the better visiting your site will be for visitors.
Nonprofits normally don't get as many visits to their websites as companies do, which is why businesses usually go for small business web hosting which is a bit more robust than what nonprofits typically require. Most non-profits, though, get quite a bit of advertising, so it's important to look at how much traffic the website receives when you're searching for a host. A common thumb rule is less than 500 guests a day and you're going to be ok on shared hosting or something less costly like Bluehost. More than that, and with great caching like SiteGround you might want to move up to something larger.
Do you need your non-profit email hosting?
Many web hosting firms offer storage of emails and some do not. For starters, WP Engine doesn't bother with email because it just focuses on hosting the website and that's it (which makes it an even better web host). There are companies like Rackspace that can provide low-cost email hosting, so if a hosting company doesn't provide email hosting, it's not a big deal, but it's a consideration when comparing hosts.
May I manage my cloud-based non-profit website?
In reality, there is one really good option in the cloud to host non-profit websites, and that's Microsoft Azure for non-profits. In reality, they provide $5K / year in Azure vouchers to eligible non-profits that require not only storage, but also other Azure resources. The main problem with this (and why I still recommend going with one of the other companies mentioned on this page) is that Azure service is not the same as a hosting company that is owned or controlled. It suggests you may be confused by the Azure framework if you are not tech savvy with spinning up servers and handling cloud instances. Many people may be able to do that, but many non-profits are working on a small staff and don't have the luxury of having someone on board with the ability to manage Azure.
Could you manage to host $5 + a month?
You often get when you pay for web hosting, as mentioned above, and you can spend a lot of time looking for free hosting when it would be easier to sign up for an affordable plan and move another more important business. Bluehost will usually have $3.95/month or less based on the word, although SiteGround may not be higher. I would definitely prefer to spend a small amount on it when it comes to having reliable hosting with reliable support and moving on to solving bigger and better problems.