Divorce cases are on the rise, which makes many couples to be wary of their relationship status. So, as a husband, do you feel like spying on your wife? There are apps to do that for you. All you need is to know which one works and which one doesn't.
We have already done the sorting for you. So, it's just a matter of reading and knowing what will spy on your wife without her knowledge. Most of the apps we are reviewing are advanced with many features and tricky ways to remain hidden.
Read through to see what you can discover about your wife in your comfort.
Part 1: Minspy Spying Application
It's always a good idea to keep your spying intentions to yourself. Minspy will help you in that by staying hidden as it spies. To get the results, you need an online account via the main website. That way, you can be spying on her every move without her phone.
So, Minspy achieves two crucial things here. It stays hidden after the setup via stealth mode, and you don't need her phone to view the activities. That is why millions of users continue to use it in more than 190 countries.
For more reports, check it out on Tech Radar or PC World among other major news outlets. You can use it to spy on both her Android and iOS devices. It takes less than five minutes to set it up since there is no need for rooting or jailbreaking.
That implies there is no phone alteration to alert your wife. If she has an Android, Minspy is compatible with OS 4.0 and above. It requires you to install it once on the phone and activate stealth mode. Once that is done, you can log in to your account to view the proceedings.
For the iOS case, you can spy on her phone online using the iCloud login details. So, after registering an account, there will be iCloud verification instead of a download and installation. Later, you can log in anywhere to see what she is doing.
For the Apple world, Minspy is compatible with iOS 7.0 or later.
In your account, Minspy will have a dashboard that is fully compatible with all browsers. It will show you all the calls she made, text messages, location, social media, and more. There are more than 30 features to explore here.
So, you better check the demo page on the main website as you register. Minspy has an easy way to spy on your wife after acquiring it since you only need an internet connection. So, whether she is at work or on vacation, your account will always have all the information.
It also goes ahead to protect your wife's information from getting hacked. It does that by syncing the information in your account when you access it. So, there is nothing stored when you leave.
Here are quick steps to use when deploying Minspy on her phone.
How to Use Minspy to Spy on Your Wife
Step 1: Create an account on Minspy's website and then choose your wife's phone operating system. Proceed to choose the plan that suits the expedition and wait for the confirmation email.
Step 2: When it arrives, use the instructions sent to set up Minspy on your wife's phone. Later, log in to your account to see what is happening.
Step 3: When you re-access your account, you will see all the information on a user-friendly dashboard.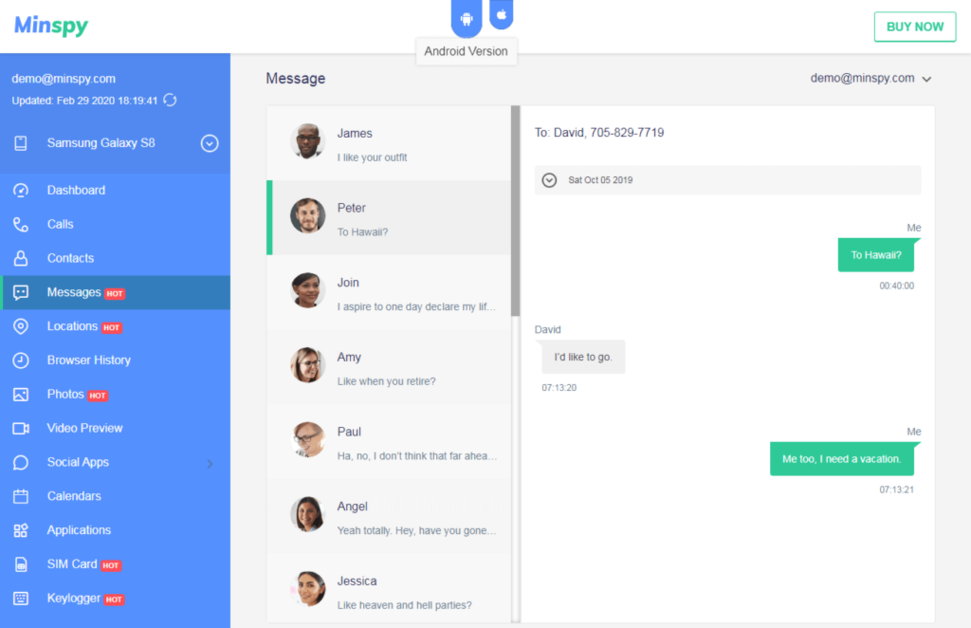 To spy on the data, click on the element in the menu to see what your wife is doing.
Part 2: Spyier Spying Application
Other recommendable apps include Spyier monitoring solution. It has also been used worldwide by parents, employers, and spouses. You can use it to spy on calls, SMSs, browsing history, photos, and more.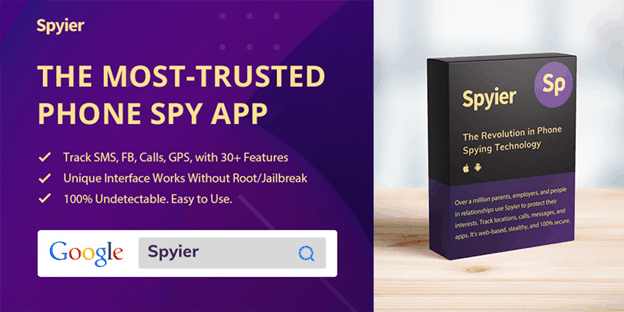 All of these features are available on both the Android and iOS versions of the app. In Android, Spyier needs you to install it once on your wife's phone and activate stealth mode. If she is using an iPhone, the iCloud ID will spy on every detail via the main website.
You can view the updates anywhere since they are in your online account. The control panel displaying their works with all browsers.
Part 3: Spyine Spying Application
It's also possible to stay unknown as you spy on your wife with Spyine. It has the stealth mode feature to hide it in Android. For the iOS end, it will use iCloud to spy on her phone activities.
The prior requires a one-time installation while the latter needs registration and verification on the website. For both phone platforms, the results will be in your online account. They will include contacts, photos, videos, browsing history, location, etc.
Spyine is compatible with Android 4.0 and above and iOS 7.0 or later.
Part 4: Spy on Wife with Spyic
Spyic has been around for years now, helping users spy on others remotely. It's also never visible while in use. Therefore, you get your wife's phone information elsewhere as the app stays quiet on her phone.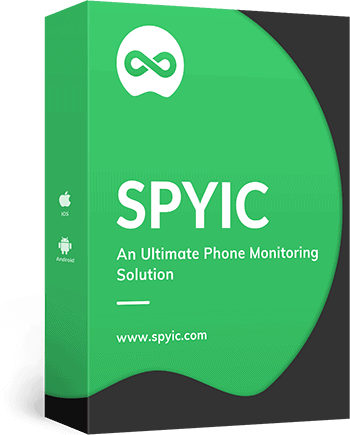 It works with Android 4.0 or later and iOS 7.0 and above. After setting it up, you get all the calls, locations, social media activities, and installed applications. You can view the data anywhere as long as your device is connected to the internet.
Part 5: Spy on Wife with Neatspy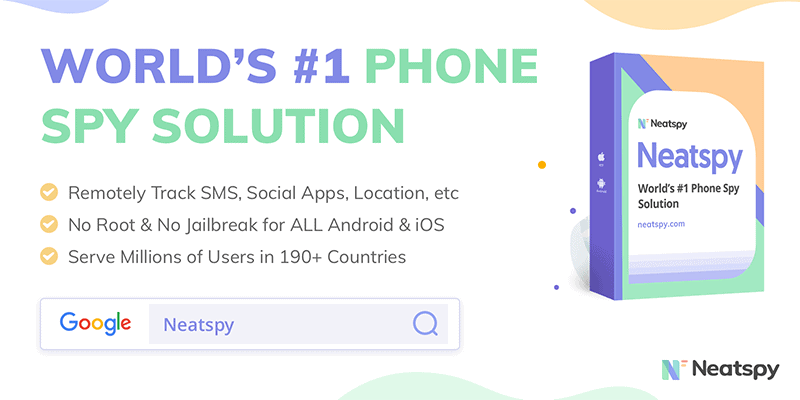 Neatspy will also help you monitor her calls, messages, SIM Card details, and browsing history, among other things. You can use it on both Android and iOS without any rooting or jailbreaking techniques.
After acquiring it, the dashboard is accessible anywhere via your online account. All you need is an internet connection to make that possible. Neatspy also works with Android 4.0 and above and iOS 7.0 or later.
Part 6: Spy on Wife with ClickFree
More of invisible apps include the ClickFree spying tool. It also has worthy features that will take a look at your wife's calls, contacts, location, and even keylogger reports. They are all accessible online after you deploy it on her phone.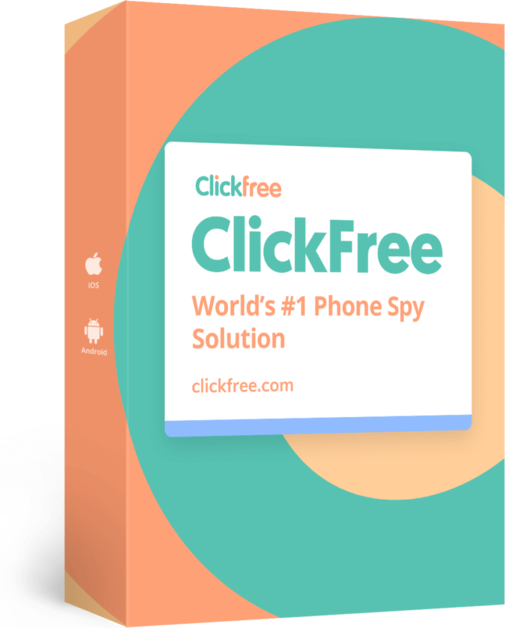 You don't need any rooting or jailbreaking to use ClickFree. That implies any targeted Android or iOS phone will remain as it was after the setup is complete. It's also quick to acquire since it takes less than 5 minutes to start monitoring your wife's activities remotely.
Part 7: SMS-Peeper
The last way to spy on your wife is by using the SMS-Peeper service. It's a web-based solution that helps you recover your wife's texts remotely. It does not need any download or installation.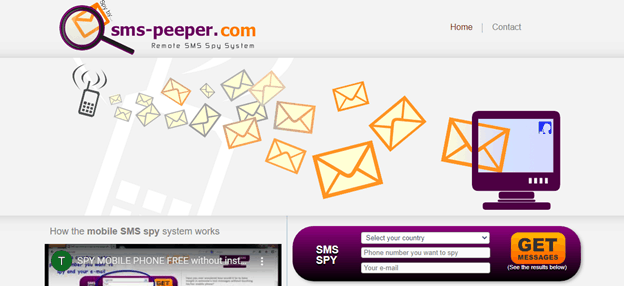 All you need is to enter the country name, your wife's phone number and the email to receive the results. The only problem is that you will receive 50 incoming and 50 outgoing SMSs. Also, you need to fill in a survey before getting the results.
Conclusion
In all the apps we have discussed, your wife will not discover any of them. So, sit down and look at what exactly you need to spy. Then choose Minspy or any other app and proceed to use it. We guarantee that your spying will be smooth and invisible all through.
You should, however, note this, the evidence you get should only be used between the two of you. If you see anything that demands a conversation, it's a good idea to handle the situation calmly. Be a gentleman instead of being irrational.