The relationship of boyfriend and girlfriend is kind of sensitive, you can't keep the relationship in good spirits if there is no loyalty. Sometimes as a girlfriend you would have doubts about the activities of your bf that maybe he is talking to other girls? 
The issue is that you can't ask him directly because you will not get the whole truth and things might get worse. So how to read boyfriend text messages to decide either he is cheating or not? You might not be familiar with a phone spying app, this sort of app can be used to spying every cellphone device without getting detected.
Feeling excited? You might be thinking how can I use a phone spying app without having any IT skills? No need to worry about skills because these latest cell phone monitoring apps don't require any kind of hacking skills for phone tracking. Now as there are dozens of apps available in the market so which one to choose? Don't worry, we got you covered because we've found the list of best 5 phone spying apps and we'll review all one by one.
5 Best Spying Apps To Read Boyfriend's Text Messages
The main purpose of reviewing all top spying apps is so that you can find one for yourself in order to read your bf's text messages using that chosen spy app. What are we waiting for? Let's go down and have a light at the top 5 best phone tracking apps. 
Minspy- Brand New Phone Spying App
Minspy is an innovative and efficient phone spying app that has gained user's confidence in such a short time. Minspy is getting used in offices, schools, homes, and almost everywhere for a reliable phone tracking.
This powerful cell phone monitoring app has the ability to track both iPhone and Android devices. Using this app is more than easy, all you have to do is to create an account on Minspy and then log in to that account to start spying on any phone device.
It is recommended to go through the whole Minspy review so you can get to know more about this amazing phone tracking. There are 35 spying features being offered in Minspy and each of them is phenomenal.
Another best thing about the Minspy app is that it is 100% undetectable. Feeling confused? The undetectable app means that no one including your bf will be able to catch you reading your bf's messages. The reason why it is impossible to catch phone spying is that the Minspy app runs on stealth mode or in simple words hidden mode.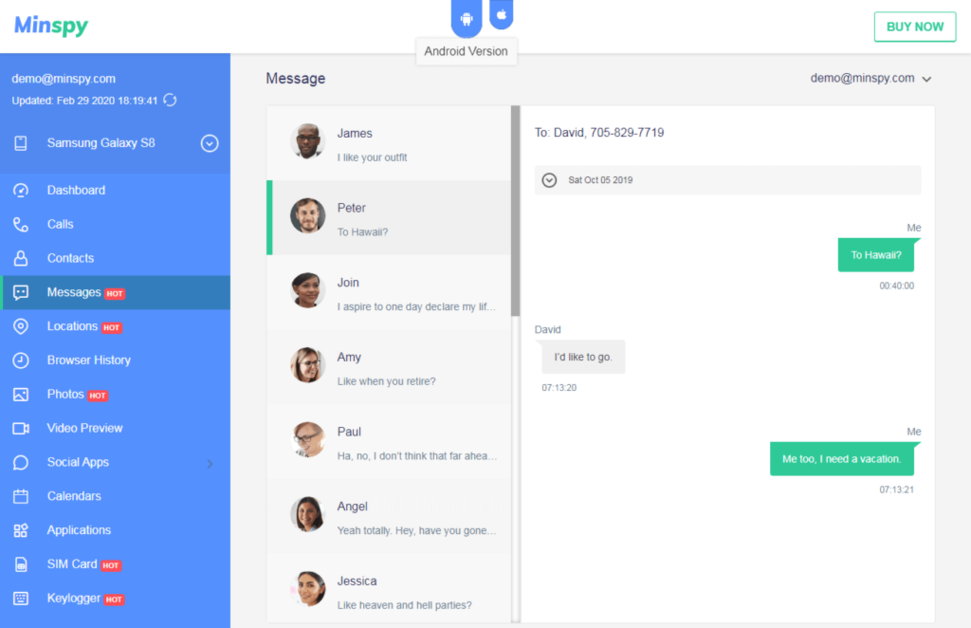 You would have this question: how to read my boyfriend's text messages without having his phone? In case your bf has an iPhone, all you have to do is to enter the credentials of an iCloud account running on his iPhone, and that's it. Minspy app will verify all details and give you access to your bf's iPhone. For reading about how to spy on an Android phone, visit the official site of Minspy. 
Spyier
Spyier is the app that people trust a lot when it comes to professional phone tracking. Like other top spy apps, Spyier is also a web-based app that can be run on any web browser regardless of what device you are using.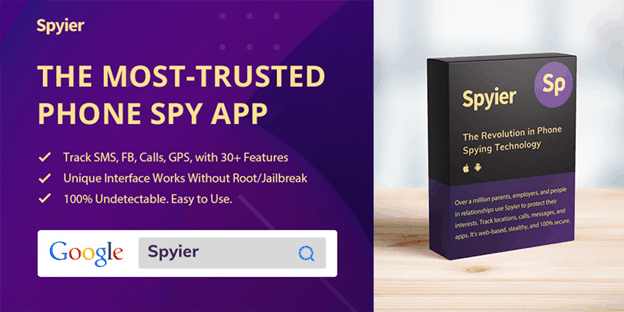 Spyier allows users to spy on any phone device without performing Jailbreak or Root sort of activities. This revolutionary spying app takes a few mins to set up and gives you complete access to any target device you want to spy on.
The visiting site of Spyier will give you more information about how you can spy on any phone device without any restrictions or limits.
Spyine
Spyine is such a professional and modern phone spying app that millions of users are using on a daily basis. Parents are monitoring their kids' activities using Geo-fence alert and other spying features offered in the app.
Spyine app is undetectable because it always runs in stealth mode. Both iOS and Android devices can be tracked using the Spyine spy app. No risk or fraud is involved using this spying app so it is totally safe to use for tracking any device. This spy app is easy to use without learning any skills. 
Spyic
It would be kind of unfair to exclude Spyic from the list of best phone spying app. Like other top-rated apps, you can use Spyic for tracking call records, text messages, location, and almost every data of a target phone device.
You can spy on both Android and iPhone devices using Spyic. Unlike other spy apps, Spyic doesn't ask users to engage in risky phone activities like Root or Jailbreak. Spyic believes in providing safe and risk-free phone tracking services to its customers. You can try out the Demo version of Spyic by visiting the site of Spyic and click on the Demo button. 
NeatSpy
Looking forward to tracking social media accounts of your bf? Try NeatSpy. This spying app is one of the easiest and comfortable apps in use for tracking any phone device. Not only social media apps, but you can also track almost every third party app installed on your bf's phone device.
There are dozens of spying features added to the NeatSpy app in order to facilitate users in spying a target device like a professional. Like other best phone spying apps, NeatSpy also runs on Stealth mode which makes it impossible for anyone to detect you spying on any phone device.
In case you have made your mind to choose one spying app but still feeling confused? You can try on that specific phone spying app on your own by trying out the Demo version of that spy app.
You can visit the official site of that app and click on the Demo options to run a Demo version of the spy app to test the app yourself. Hopefully going through the whole guide will help you to choose one spying app for yourself so you can read your bf's text messages without letting him know. 
Conclusion
On a short note, we can conclude that phone spying apps reflect how much technology got advanced. No one would have imagined that one can use a phone spying app to track any phone device without getting detected.
The best thing about these top spying apps is that you don't have to learn any hacking skills to use this app for phone monitoring. These apps are web-based and can be run on any web browser on any device.
Almost every discussed spying app has the ability to track every smartphone either Android or iPhone. We came to know that top spying apps don't compromise on security which is why no Root or Jailbreak is required when using any of these spying apps.