In this modern world, almost everyone is having data saved in their mobile phones like photos, videos, and document, etc. This tiny device offers a lot of convenience, but also indeed have limited storage space. iPhone users, in the same way, have the same concern. As different files accumulating in iPhone, the already limited storage space are increasingly squeezed. The device from time to time gets stuck and becomes not so smooth even when you switch the screen. Then how to release the space? Transferring data from iPhone to PC is what most users will do. However, many of them start to look for iTunes alternatives.
Why iPhone users are abandoning iTunes?
Things happen for a reason. More and more iPhone users gradually give up on iTunes because of some disadvantages that have not improved over a long period of time. Some new users may even feel upset when they want to try iTunes, for it is "well-known" complicated to use. Nowadays people do not have much patience. When transfer data from iPhone to PC, once they find searching step-by-step tutorial is what they should do first, they will possibly give up iTunes without hesitation. What about those longtime users of iTunes? Well, they know it better, but also are clearer about cons of iTunes. Big user experience gap between different versions and data loss are two of the most complained problems.
Top 5 iTunes alternatives to transfer file from iPhone to PC
To recommend some iTunes alternatives that are worth a try, a lot of testing work has been done and 3 of them stand out for good data transfer performance.
WinX MediaTrans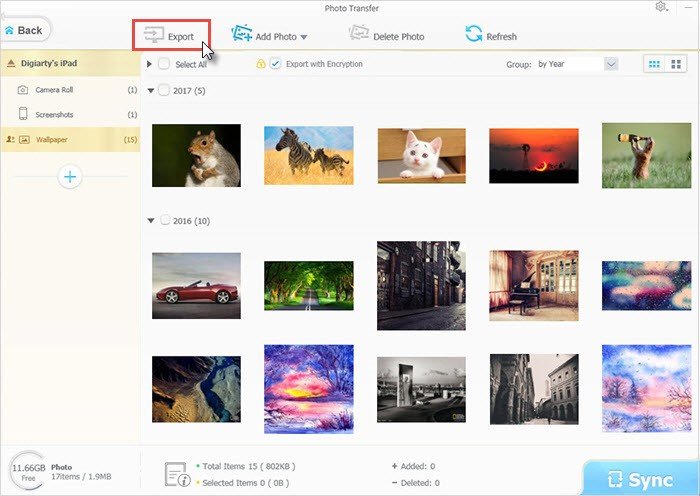 WinX MediaTrans is easy to use even for the first time users. Its interface is clean and intuitive. Additionally, you can install it with just a few clicks. Error is not a thing for this software, and it does not put any restriction to functions. Also, you iPhone can be connect with it very quickly. Data transfer is processed at no.1 fast speed as well. Therefore, no matter it is on installation or file transfer, you will never suffer from lengthy wait. Photos, music, videos and other documents can be transferred I batch easily. No data loss will occur in any part of the transfer. Moreover, WinX MediaTrans can support any of your device.
As for functions of this iTunes alternative, they are flexible and very convenient. For music, your own unique playlist can be created by yourself, and the songs' titles, artist and album can be edited. Even for songs that are not from iTunes, you can also transfer them from iPhone to computer. Auto conversion for music and video format is accessible as well. To protect your data, it provides you with the function of setting password.
Pros:
It's easy to use even for the first-time users.
Transfer data extremely fast.
Convert file format and compress file size for saving storage space.
Flexible editing functions.
Cons:
It has to be upgraded to the full version to enable DRM removal features.
AnyTrans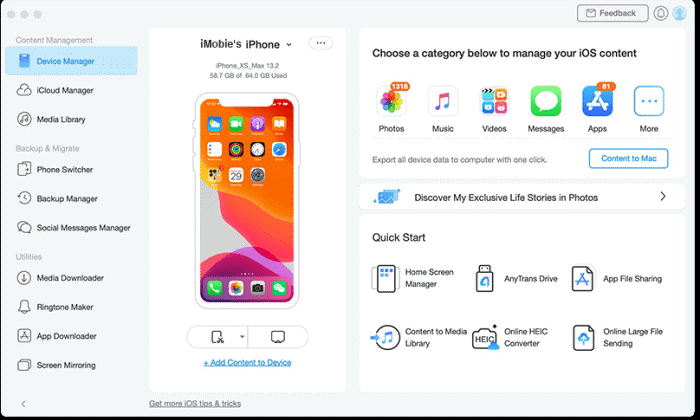 AnyTrans is also a wonderful alternative to iTunes. It can transfer multiple type of data from iPhone to PC including WhatsApp chats. And one of its similar functions to WinX MediaTrans is that music playlist management is accessible. It allows you to backup file, but in the meanwhile, sometimes the connection error between devices can happen and there exists the problem of file being shipped during transfer.
Pros:
Two-way data transfer.
Transfer file at a fast speed.
You can encrypt data transfer.
Cons:
Only the paid version provides full features.
iTunes library cannot be added.
CopyTrans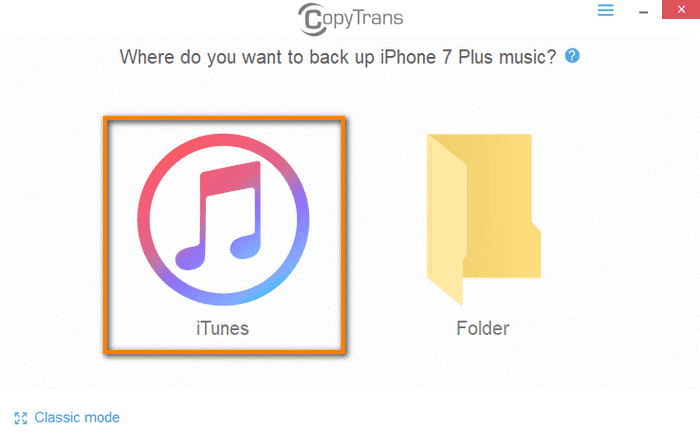 CopyTrans is a fast and easy tool that focus on music data transfer. For file backup, it offers two main method. With "Smart Backup", the repeated contents will be automatically filtered during file transfer. With "Classic Mode", you can customize specific files to be transferred and hard drive on PC to save these files. Both options are easy to use. However, sometimes batch transfer is a little time-consuming.
Pros:
Duplicated content will be automatically removed.
Music management is very easy.
Cons:
The interface is not so intuitive and may be confusing sometimes.
Data from iPhone cannot be imported.
Summary
Saving various types of files in iPhone is indeed convenient. However, to release the limited memory space of this tiny device is inevitable after longtime use. Besides files like music, photos and videos, chats can also be transferred by AnyTrans, but full features are only available after payment. CopyTrans offers different backup options, but it's not so easy to use. Compared with this two, WinX MediaTrans has better overall performace concerning speed, functional flexibility and quality. No matter you want to transfer data from iPhone and other iDevices to PC or vice versa, it is a solid choice for you.