Best Free Drawing Software For Digital Artists- For aspiring or professional digital artists, drawing software is a must-have. Modern drawing tools and applications allow you to create, edit, and even distribute finished artwork including drawings, illustrations, and schematics.
When looking for the best drawing software, people frequently have to pick between having enough features and paying a high price for them. The good news is that there are a plethora of free drawing applications for PC.
List Of The Best Free Drawing Software
Here is the list of popular and free drawing programs below:
Clip Studio Paint
Gimp
Krita
Artweaver Free
Sketchpad
Astropad Studio
Adobe Illustrator
Inkscape
Vectr
FireAlpaca
Adobe Photoshop


Clip Studio Paint
Clip Studio Paint – Best for all the artists & creative people for character art & drawing, concept art & painting, comics, manga, webtoons, animation, etc.
Clip Studio Paint is a digital painting programme featuring a variety of helpful and unusual features. It runs on Windows, Mac OS, iOS, Samsung Galaxy, Android, and Chromebook.
It can be utilised for a variety of purposes, including animation, comics, concept art, and painting. It is equipped with a strong brush engine. It allows you to personalise every aspect of the brushes. It gives an infinite number of tools.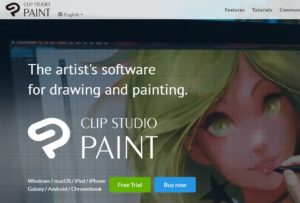 Features:
Clip Studio Paint has features for comics, manga, and webtoons, including quick effects and saturated lines, realistic pens and brushes, and more.
It allows you to personalise balloons.
It offers onion skin functions, configurable camera work, vector lines with a hand-drawn feel, and other animation features.
Custom brushes, customisable 3D references, gradient maps, and other capabilities in Clip Studio Paint make concept art and painting easier.
For character art, it features advanced fill tools, decorating brushes, 3D model & AI posing, and so on.
Conclusion: Clip Studio Paint is a simple programme to learn. The tool is perfect for rendering and inking because of its valuable and distinctive capabilities. This versatile digital painting programme can be purchased in a variety of ways, including one-time purchases and monthly subscriptions.
Price: Clip Studio Paint can be tried for free. Clip Studio Paint Pro ($49.99) and Clip Studio Paint Ex ($219) are the two one-time purchase options. It also offers monthly usage options that start at $0.99 per month.
GIMP
Best for small to medium-sized businesses.
GIMP is an open-source image editing programme designed for professionals. Users can modify the source code to suit their needs and take advantage of a wide range of functions, making it comparable to Adobe Photoshop in many ways. The programme has a standard user interface and is capable of doing high-end graphical work.

Features:
Brush, airbrush, pencil, and clone are among the painting instruments available.
Capabilities for advanced image modification
Over 100 plug-ins are supported.
Animations are loaded and saved.
Interface that can be customized
Conclusion: One of the most effective free alternatives to Adobe Photoshop. It has enough functionality to suit everyone except the pickiest digital artists and may be utilized in professional situations.
Price: Free
Krita
Best for freelance and small business digital artists.
Krita is an open source painting programme developed by a group of artists who wanted to make digital drawing tools more accessible to everyone. This programme is ideal for generating digitally painted pieces like concept art, comics, and oil paintings.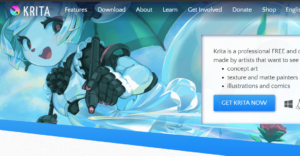 Features:
There are over 100 brush variations available.
Color picker with a lot of options
Drawing good lines and curves using the Bezier tool
Editing the panel layout allows you to swap between workflows.
Patching tool with intelligence
Conclusion: Krita is an excellent choice for both experienced and inexperienced digital artists. It has limited photo editing and animation capabilities, thus it might not be the greatest choice for professional artists that need these tools.
Price: Krita is FREE. For $9.79, you can get a premium version with updates.
Artweaver
Best for small businesses.
Artweaver is an image editing programme with a lot of options. It has a lot of the same features as Adobe Photoshop and is suited for both amateur and professional artists. It includes a variety of realistic brushes, including a hairy brush, pixel brush, and circular brush, among others.
The canvases and palettes can be be moved, docked, and resized as needed. A paid "plus" version of Artweaver is also available, with more features and free technical support.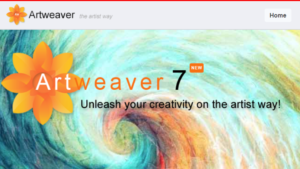 Features:
Several realistic brush options
Interface that may be adjusted and is simple to use
"Events" that can be saved to demonstrate your painting technique
Over the Internet or a LAN, you can collaborate with others.
Conclusion: Artweaver Free is an excellent tool for artists that need Adobe Photoshop's features and want to collaborate with other users via the Internet. However, when compared to Adobe Photoshop's most recent versions, several of its features are limited.
Price: FREE for Artweaver Free, while Artweaver Plus retails for €34
Sketchpad
Best for students, teachers, and social media designers looking for a simple yet versatile drawing software.
Sketchpad is a mobile-friendly web-based drawing application for students, instructors, and anybody else who requires quick access to image creation tools on the go. Sketchpad can be found by going to the company's website. Once the webpage has loaded, users can utilize this tool offline. A commercial downloadable version of the software is also available, which works on both desktop and tablet computers.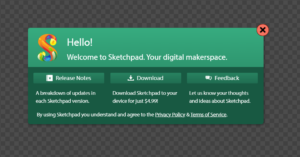 Features:
Brushes: 18
There are over 5000 clipart variations to choose from.
14 different forms to choose from
There are over 800 text fonts available.
There is no need to download anything.
Conclusion: Sketchpad is a straightforward web-based sketching application that can be accessed from nearly any device with an Internet connection. However, except in an emergency, its usefulness is too limited for professional use.
Price: FREE for web-version, $4.95 for downloadable version.
Astropad
Best for small to medium-sized business graphics artists that work on iPads.
Astropad is a one-of-a-kind app that transforms any iPad into a full-featured graphics tablet. The basic version of the app includes Apple Pencil support, allowing you to draw directly on Mac apps from your iPad. Pressure sensitivity and customized shortcuts are available in the Standard version, while gesture control and customizable pressure controls are available in the Studio version.
Features:
Wi-Fi and USB ports are available.
Support for the Apple Pencil
Pressure-sensitive
High-speed operations (Studio version only)
Gestures of Magic (Studio version only)
Colors have been adjusted (Studio version only)
Conclusion: Astropad is a fantastic tool for anyone who wants to turn their iPad into a fully functional graphics editor. It is, however, only accessible for iPads. The ordinary and studio editions of the software are both more expensive than the other software and apps on our list.
Price: The standard version costs $29.99. The Studio edition is free for 30 days, after which it costs $79.99 per year if you want to subscribe.
Adobe Illustrator Draw
Small to medium-sized businesses will benefit the most.
Adobe Illustrator Draw is a touchscreen-compatible version of Adobe Illustrator. With the help of a variety of tools, users may sketch on their Android and iOS devices. It has a lot of flexibility, allowing you to modify the brush style, size, opacity, and smoothness. Users may simply design realistic gradients with layers that blend seamlessly together.
Features:
There are five vector brushes included in the package.
Integration of shapes
Tools for graphing and perspective
Libraries in the Adobe Creative Cloud
Drawings can be sent to Illustrator and Photoshop.
Behance direct publishing
Conclusion: Adobe Illustrator Draw is a fantastic free tool for mobile artists. It does, however, have a high learning curve that novice users may find difficult to navigate.
Price: FREE
Inkscape
Designers working in the marketing industry for small to medium-sized businesses will benefit the most.
Inkscape is a vector drawing programme for desktop computers that runs on Windows, Linux, and Mac OS X. This free drawing programme works with a variety of image formats and is especially handy for generating and publishing high-quality promotional materials.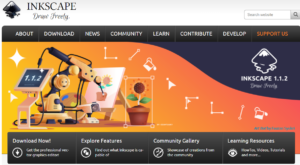 Features:
Tools for drawing, pencil, pen, and calligraphy
Text editing software
Multiple file formats are supported.
Tracing on a bitmap
Editing and creating files in the SVG format
Inkscape's capability for Scalable Vector Graphics (SVG) makes it an excellent tool for designing and generating logos and banners. It can, however, be difficult for new users to become acquainted with it.
Price: FREE
Vectr
Small to medium-sized businesses will benefit the most.
Vectr is a graphics programme that makes it simple to create vector graphics. It has a simplistic design yet is comparable to Adobe Illustrator in terms of functionality. It is accessible as a free downloading software as well as a web-based application that may be accessed through its website. Vectr is a versatile tool that can be used by both inexperienced engineers and designers to produce presentations, logos, brochures, and business cards.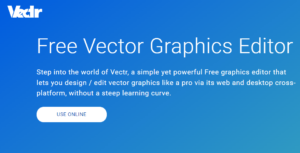 Features:
Tool with a pen
Tools for sculpting
Capabilities for element arrangement
strokes and fills
Gradients
Conclusion: Vectr is a wonderful alternative to Adobe Illustrator for anyone looking for a capable vector graphics programme that can be accessed through a web browser. It does, however, demand a continual Internet connection and has a small library of shapes and icons.
Price: FREE
FireAlpaca
Freelancers and small enterprises will benefit the most.
FireAlpaca is a digital painting programme that works on both Windows and Mac computers. It comes with easy-to-use tools and controls for making illustrations. This software is updated on a regular basis, and it's a wonderful choice for anyone seeking for desktop-based digital painting software.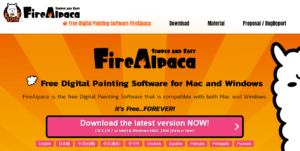 Features:
Brush made by hand
Windows that can be adjusted
Support for 3D perspectives
Lines of concentration
Templates for comics
Conclusion: FireAlpaca's flexible windows allow users to design their ideal layout, and its 3D perspective capabilities are great for comic book creators. Its brush and editing features, on the other hand, are restricted.
Price: FREE
Adobe Photoshop
Small to medium-sized businesses will benefit the most.
For raster image editing, graphic design, and digital art tools, Adobe Photoshop set the industry standard. Its capacity to use depth and versatility in the design and editing of images is unrivalled. It also has a large range of tools, each with its own set of functions. Adobe Photoshop is a powerful photo editor that can handle any task, no matter how big.
Features:
Tool with a pen
Instruments for selection
Shapes
Mask in vector format
Tools for retouching
3D Photoshop
Things that are intelligent
Conclusion: Adobe Photoshop is a versatile programme that continues to be a popular choice among graphic designers across all industries. It has a large number of tools, and users can learn advanced methods by viewing one of the thousands of video courses available online. However, for amateur artists and small enterprises, the $20.99 per month subscription is prohibitively expensive.
Price: $20.99 per month on a monthly subscription basis. Adobe's 7-day trial allows users to sample it for free.
Conclusion
As you can see, there are a plethora of excellent free art applications available for creating digital art drawings. GIMP is a terrific alternative if you're looking for the best free digital art software that works similarly to Adobe Photoshop.
Artweaver is a good alternative if you want free sketching software for interacting with other digital artists. Sketchpad is a useful piece of software for artists who want to create and edit artwork on the fly.