Recalling old memories through swiping photos in your gallery is an awesome feeling. All our happy moments, celebrations, work, fun, and entertainment is directly related to photos now. Think of a graduation party, and you start scrolling your mobile phone gallery to have a look at that memorable time of your life.
What if you wake up and your photo data is gone. Thinking of this even drives me crazy, but accidents happen, and sometimes you lose your precious data of photo collections saved in external support gadgets like an SD card. Let me tell you that you can recover deleted photos from sd card.  Please read the full article to know how to retrieve deleted pictures from sd card.
Part 1:Can you Recover Deleted Photos from SD Card?
Most electronic device's internal storage has an SD card for data storage, especially photos and videos. These tiny cards could store a considerable amount of pictures and videos. You may create excellent archives of images to be viewed, exchanged, and saved at your convenience through an SD card.
These SD cards can get corrupt while containing large photo backups. You will be recovering deleted photos from SD cards on and off for many reasons like:
Accidentally deleted photos
SD card formatted inadvertently
A simple mistaken click
It is stressful to be in this situation. Still, the method given below will ease your pain, and you can recover deleted photos from SD card like a pro.
Part 2:How to Recover Deleted Photos from SD Card without Software
Method 1:Best Way to Retrieve Deleted Pictures from SD Card with the Use of Data Recovery Software
Recovering deleted pictures from SD cards using software is a common practice. But, the real challenge is how to recover deleted photos from sd cards without software? Technically the images not deleted permanently or automatically backed up don't need software to recover. Still, you must use good recovery software to get your permanently deleted data back in some cases.
2.1.1 Video Guidance on how to recover files from sd card
2.1.2 How to recover deleted photos from sd card with 4DDiG
Tenorshare 4DDiG is a new sensation in recovering data lost from Windows & Mac. It is one powerful data recovery software that will fulfill all your data recovery needs. You do not have to look for another.
4DDiG allows you to recover photos not only from SD Card but also from PC, Mac, Hard Drive, USB, Camera, SSD, and almost all other external storage devices. 4DDiG supports around 1000 file types like Photo, Video, Audio, Office Document, Archives, etc. It doesn't matter how you lost your data either due to deletion, formatting, system crash, or virus attack; you can recover it easily.
2.1.3 Recover all your deleted photos from SD cards in just 3 Steps
Recover deleted photos from sd card regardless of its file type 4DDiG supports the following image files.
JPG/JPEG, TIFF/TIF, PNG, BMP, GIF, PSD, CRW, CR2, NEF, ORF, SR2, MRW, DCR, WMF, RAW, SWF, SVG, RAF, DNG, ERF, ICO, DSC, etc.
Step 1. Launch 4DDiG , then select SD card to start scan
Step 2. Preview & Select recovered data from SD card
Step 3. Click Recover button to get your selected photos back
Method 2:Recover Deleted Photos from SD Card from a Backup
The best way not to lose your photos and videos from an SD card is that you back them up. This expanded storage capacity is reliable, but you can not get your data without a backup in case of stealing.
It is upto you how you want to backup your photos, either online on cloud backup or save it to the external storage devices at home.
iCloud
iTunes
Onedrive
Huawei Cloud
Github
HiDrive
Method 3: Recovering Deleted Photos from SD Card from your device's Internal Memory or Storage
Some mobile phones have internal memory storage. The moment you realize that you have deleted photos from an SD card, check the device's internal memory. There is a better chance of recovering your lost images before the storage is overwritten.
The only difference lies in the type of device you are using, i.e., android and iOS. Android-supported mobile phones have a wide variety of brands that offer several handsets with different features. You need to check your mobile internal memory space manually if there is space available or not. On the other hand, if you were using an SD card with an iOS device, you would use the tab Photos to attempt recovery.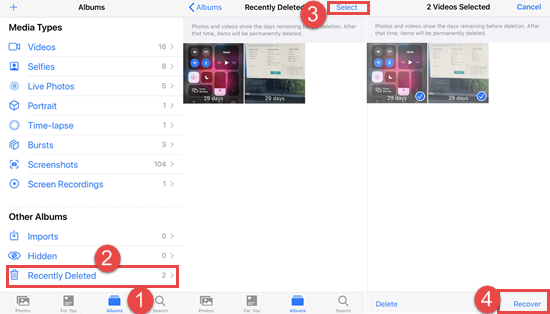 Step 1: Open Photos
Step 3: Navigate to albums
Step 4: Check for deleted photos
Step 5: Move them back to the album
Part 3:How to avoid deleted photos from sd card
Normally, you could lose your data for several reasons, but some good habits can save you from this headache. Kindly follow these small and easy practices to avoid losing your photos.
Please use good quality brand SD cards and readers.
Try to format SD cards every time before you store photos in them.
Do not pluck out the memory card without safe ejection.
Do not use the camera if the storage space is about to be full or the device's battery is low.
Summary
Summarizing the article in the hope that you got all the possible remedies for your lost photos along with the tips to avoid losing them in the first place. Still, if you lose them although taking all the precautions. You know the best recovery tool is 4DDiG to recover deleted photos from sd card.