Information Technology (IT) managers are individuals who are in charge of the performance of an organization's information technology team and who aim to see that the organization's information technology requirements are met. They are far too essential for both the corporation and those individuals who report to them from that perspective.
They concentrate on assets such as hardware and software that are required for the network and look after the upgrades to ensure that they are always up to date. Consequently, managers must comprehend fundamental data policies, compliance requirements, storage, and a variety of other topics. A policy can be related to a product or for employees to increase the productivity of those who work in the organization.
Certifications for IT Managers
Many companies recognize the importance of IT managers in enterprises. As a result, companies are always looking to hire someone with the necessary skills. Organizations have standard certification programs in place to verify those competencies. Employers can then use this information to determine whether or not an individual will be the best fit for the job and make that candidate stand out among thousands of other candidates.
Certifications will help people improve their abilities and advance in their careers. Certificates can be used to demonstrate a candidate's knowledge and experience. Certification also helps managers enhance their expertise and contribute to the organization's success. Let's talk about IT management certifications.
Cato SASE Expert Level 1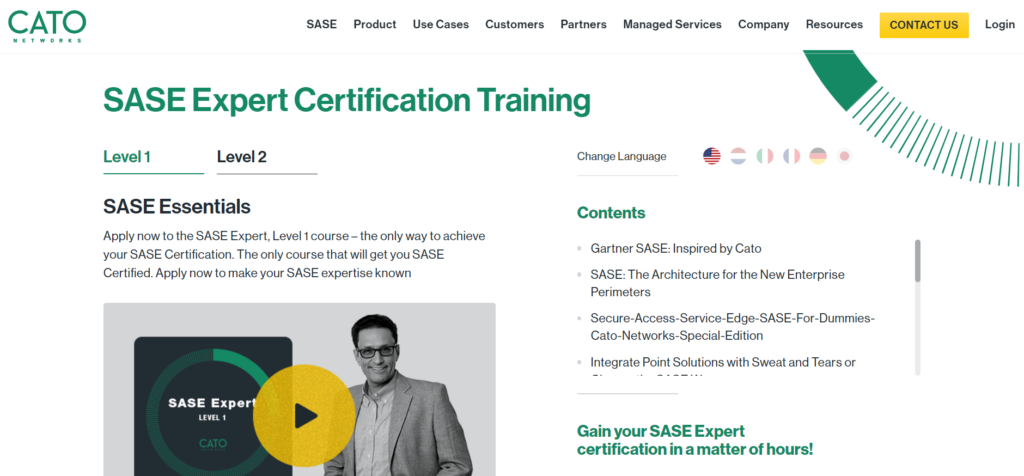 Cato Networks' SASE Expert Certification provides a single native cloud service that is available anywhere in the world, in addition to combining network and security points of presence solutions. It enables enterprises who are new to the field of networking or security architecture to provide a more complete, flexible, and adaptable service to their customers and clients.
As SASE is a new enterprise networking technology and Cato has its own functionality, organizations are looking for people who have these qualifications. The SASE expert certification training course provides a comprehensive understanding of its architectural design. If a manager is interested in learning about it and obtaining the necessary expertise, this is an excellent opportunity.
Moreover, a candidate only requires basic or fundamental knowledge of networks to be eligible to obtain this certification. With a three-year expiration date, this SASE Expert Level 1 certification serves as a one-stop-shop for nearly all SASE studies.
Project Management Professional (PMP)
The Project Management Institute administers the PMP certification, and candidates must pass a written exam before being evaluated on their prior education and work experience. It evaluates the skills of individuals, how they handle projects and what measures they need to take while managing the project.
There are various prerequisites that candidates must meet before taking this test, such as adhering to a stated code of professional behavior and accumulating a specific set of relevant experience. Only once the appropriate authority has approved the application may the candidate attempt the test. This certification is a widely recognized professional qualification around the world.
Certified in Risk and Information Systems Control (CRISC)
ISACA offers CRISC certification as part of its program. In terms of risk management competency, it is the most current and comprehensive examination available, and it may be used to evaluate the proficiency of an IT professional or an IT manager. A risk assessment is carried out by every company before the deployment of any new product and when it wants to integrate a new product into the organization.
Specialists who have obtained certifications from the CRISC assist businesses in properly assessing business risks and implementing the most significant procedures and controls that are beneficial to the corporation.
Risk management, as defined earlier, assists businesses in developing a thorough awareness of risks and threats and plans to reduce or eliminate those risks and dangers. To carry out your management responsibilities in the areas of security and compliance, you must obtain this qualification.
Certified Associate in Project Management (CAPM)
In the scenario that an individual's employee wishes to pursue a career in the field of information technology management, CAPM is the entry-level certification in project management that will assist them in learning about or managing the product and its service life cycle.
This is one of the most straightforward credentials accessible in the subject of IT project management. After completing it, the student will have more knowledge about management and will be able to easily gain greater credibility from organizations. However, there are two prerequisites to be met before the application can be processed: a high school diploma or any degree equivalent to it and a 23-hour formal study in project management. This 23-hour study demonstrates that the candidate has finished the curriculum, workshops, and training sessions that were indicated earlier.
Certified Information Security Manager (CISM)
The Information Systems Audit and Control Association (ISACA) offers the CISM certification, which is a security certification program for managers.
As this is a higher-level certification, candidates must have knowledge of information security, development of policy and procedure for employees or organizations, incident handling and response, standard compliance policies that organizations maintain, and various audits that occur in the workplace.
A candidate requires these abilities to be an effective IT manager and to assist team members in understanding their day-to-day responsibilities. As previously said, this is a certification for experienced candidates. To pass this certification, a manager must have relevant practical experience in the field. A candidate will not be able to pass the exam just on the basis of theoretical knowledge. This qualification helps candidates gain a competitive compensation package as well as more secure employment within corporations.
Conclusion
These are some credentials that would undoubtedly offer individuals a solid foundation upon which to build their careers in IT management. Every certification will necessitate an investment of time, money, and effort to obtain, and each certification has its own set of advantages and emphasis points. Candidates can select a certification based on their level of interest in IT.
Organizations are constantly on the lookout for qualified experts, and these credentials can be used to demonstrate a candidate's expertise on a CV and set them apart from the competition.