How to Transition to a Cyber Security Career at Any Age- Perhaps you have years of experience in management, sales, teaching, or another profession where you deal with people.
Are you thinking about doing a mid-career transition to a cybersecurity position?
It's a fantastic field to get into. Millions of cybersecurity jobs are currently unfilled in the United States, with countless more around the world. There are insufficient competent candidates to fill these positions.
Because there are fewer competent applicants, pay for cybersecurity professions are increasing. It is usual for cybersecurity positions to pay more than six figures to those with a few years of expertise and a few strategic IT credentials.
Are you in your thirties, forties, or fifties?
It's never too late to start learning about cybersecurity. I know a lot of people in the industry who started when they were in their 40s and 50s. Age brings with it a wealth of knowledge. When you combine your present skills with cybersecurity training, you'll have a huge advantage over many of the younger people who are seeking to break into the field.
Perhaps you've worked in management, sales, teaching, or another field where you interact with people for a long time. Such interpersonal abilities might make you highly appealing to a technological firm. Introverts make up a large percentage of those who enter the field. Someone with the interpersonal skills needed to deal with clients and manage people is required to lead a group of introverts. You'll be able to talk the talk, grasp the mission, and become a leader or manager in this burgeoning sector with just a little cybersecurity education and a few credentials.
Here's what you should do:
You must first demonstrate that you understand the fundamentals. If you've spent your entire career dealing with computers, you've already gotten a leg up on the competition. If you've never used a computer before, you'll need to put in a little more effort.
Step 1: Obtain certification
Certifications are the first thing that employers check for. Certifications demonstrate to the industry that you are knowledgeable in your field.
Your initial step should be to obtain CompTIA certifications. Passing each certification will most likely take a few months of preparation.
You should start with the CompTIA A+ certification if you are a complete newbie. If you already have a strong computer background, you may be able to jump straight to the Security+ certification.
As you progress along the road, the certificates become more difficult.
Passing the Security+ test will allow you to gain access to new opportunities in the field. The certifications are classified by the Department of Defense. IAT1, IAT2, and IAT3 are the three levels. You fall into the IAT2 category if you have the Security+ certification.
By looking for IAT1, IAT2, and IAT3 on the job search site Indeed.com, you can assess the value of each of these credentials. The better your IAT score, the more likely you are to be considered for occupations with higher average salary. Here is a list of employment accessible in Northern Virginia for persons with the Security+ (IAT2) certification as an example: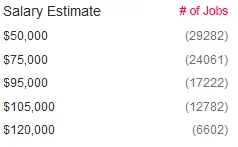 However, earning an IAT Level 3 certification should be your ultimate goal. It will take a large amount of time and effort to study for and pass the CASP exam. The CASP test does not require any prior experience to take, however it is intended for professionals with extensive expertise. If you can accomplish that, you're putting yourself in a position to earn a six-figure salary. Here is a list of occupations available in Northern Virginia for those with the CASP (IAT3) certification as an example:
A larger wage range is definitely demanded by the CASP qualification.
Step 2: Get some experience
The next stage is to build up your resume with relevant experience. This may not be as difficult as it appears. Many firms are in need of computer assistance. Because you are currently employed, you may be able to take on some additional responsibilities at your current employer. You might volunteer to assist with laptop configuration, troubleshooting, and a variety of other duties that can help you establish trust in the business.
Starting your own cyber consulting business is one method to get the necessary experience. This can be done as a sole proprietorship or as a limited liability company.
You'll require a website as well as some business cards. If you set up your site with WordPress, you can have a lot of fun and learn a lot. There are numerous tutorials available online for setting up a WordPress site.
Then you can approach small firms and offer your services as a part-time job. You can strategically combine the experience you gain into your résumé.
Step 3: Find your first position
It is simple to find an entry-level job in cybersecurity once you have your certifications and some experience. You may have to start at the bottom, but you can swiftly advance by leveraging your skills.
It may be more difficult to break into the sector as a mid-level employee, but it is not impossible. You can use your professional experience to advance to a position of leadership. You can therefore continue to study and develop without having to conduct the more technical work yourself.
Step 4: Keep learning and growing
The exciting part about cybersecurity is that it is always changing and evolving. This necessitates ongoing education. You should continue to obtain credentials once you have a full-time job in the field. Your goal should be to reach IAT level 3 as soon as possible (CASP or CISSP).